Consumer Resources:
MemoryDepot.com is hiring: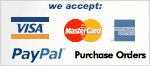 What is RAM memory?
RAM temporarily holds information that was taken from the hard drive & keeps it available and easily accessible by the computer's central processing unit (CPU), also known as the processor.

RAM stores the data in electronic memory cells that are arranged in grids in much the same way as cells are arranged in a spreadsheet. From here, data in the binary form of 1's and 0's can be accessed and transferred to the processor for processing by the system's software.

This memory is referred to as "volatile": all data inside the RAM memory modules are erased when the computer is turned off. This type of memory is also used on other parts of the computer such as the video card, hard drive & motherboard.

[ECC] (Error Correcting Code) checks for errors and can correct bits to the right value, allowing the system to function normally. Modules equipped with ECC are a little more expensive but ensure data integrity in very critical applications on units like servers...

[Dual Channel Memory] If the motherboard supports dual-channel DDR mode, and it also has an integrated graphics engine, the system performance will be boosted because integrated video uses system RAM, and RAM running in dual-channel mode is 5 to 10% faster than DDR RAM running in single-channel mode.