Disk on Module Hi-Speed DOM EDC4000 IDE 40Pin Vertical Wide Temp
Extremely light weight, reliable & performant, This new generation IDE Flash Module made of SLC Industrial Nand Flash Memory, is the most flexible solution to provide

reliable storage on space limited and hostile environnment

. Decreasing data access time and replacing any moving part from a traditional hard drive, the Flash Disk on Module fit the needs of a wide range of application.

This Product line operates at -40c to +85c ( Wide temp model )

100% Compatible with the Standard IDE ATA interface, this unit works exaclty like a standard hard drive but without any moving part, strongly increasing reliability and improving data access speed performance, without any noise.

Wide Temperature Operating Range

-40c to +85c




Product listing




Specifications
Note: The difference between Single Channel and Dual Channel impact on the speed only, where the Dual Channel offer twice the read/write transfer speed performance compared to the single channel, since they are made of 2 chips that can be accessed simultaneously. This does not affect the compatibility and both models will be similarly recognised by the motherboard..

Embedded Disk Card 4000 (EDC4000) products provide high capacity solid-state flash memory that electrically complies with the Personal Computer Memory Card International Association ATA standard. InnoDisk Embedded Disk Card 4000 (EDC4000) is embedded solid-state data storage systems for industrial work place. Embedded Disk Card 4000 (EDC4000) features an extremely light weight, reliable, low-profile form factor. Embedded Disk Card 4000 (EDC4000) supports advanced PIO (0-4), Multi Word DMA (0-2), Ultra DMA (0-4) transfer modes, multi-sector transfers, and LBA addressing.



interface 40pin or 44pin IDE/ATA
Drive Config. Jumper Switch Master/Slave
IDE Transfer Mode PIO mode 0-4/ MwDMA mode 0-2/UDMA mode 0-4
Burst Speed Rate 66.6MB/sec.
Operation Temp -100C~+700C(Standard)
-400C~+850C(Industrial)
Storage Temp -550C~+950C
Humidity 100C~950C non-condensing
Vibration 5G(7~2000Hz)
Shock 50G/10ms
ECC Technology High reliability base on the internal ECC function
MTBF >3,000,000 hours
R/W Endurance 2,000,000 times
DC Input Voltage +3.3V~+5V single power supply operation
Power Mode Auto stand-by mode
Dual Channel Performance:
Sustained Read : 40MB/sec
Sustained Write : 20MB/sec

Single Channel Performance:
Sustained Read : 20MB/sec
Sustained Write : 10MB/sec

Note: Single Channel and Dual Channel configuration is only a memory configuration and does not affect compatibily with the standards. The only difference between the 2 configurations is the performance



| | | |
| --- | --- | --- |
| Reliability | Test conditions | Reference Standards |
| Vibration | 7 Hz to 700 Hz, 2 g, 3 axes | IEC 68-2-6 |
| Mechanical Shock | Duration: 0.5ms, 1500 g, 3 axes | IEC 68-2-27 |
| Unit Drop | From a height of 1.5 m | IEC 68-2-32 |



Conditions: Telcordia SR-332 GB, 250C, > 3,000,000 Hours


Read Cycles: Unlimited Read Cycles.
Write /Erase Cycles: 2,000,000 Erase Cycles.
>150 years @ 50GB write-erase /day
Data Retention: 10 years.
Wear-Leveling Algorithm: support.
Bad Blocks Management: Support
Error Correct Code: Support

Operating Temperature Range: Standard Grade: -100C to +700C
Storage Temperature Range: Standard Grade: -450C to +950C

Flash memory can be erased a limited number of times. This number is called the erase cycle limit or write endurance limit and is defined by the flash array vendor. The erase cycle limit applies to each individual erase block in the flash device.
EDC4000 uses a wear-leveling algorithm to ensure that consecutive writes of a specific sector are not written physically to the same page in the flash. This spreads flash media usage evenly across all pages, thereby maximizing flash lifetime.


| | |
| --- | --- |
| Included with all 40pin Disk on Module ( DOM ), we provide a Power Cable connecting to a Standard 4Pin Molex connector. ( Same as traditional 3.5 inch IDE Hard Disk ) | |



Q. What is difference between Single Channel and Dual Channel ?
The only difference between Single Channel and Dual Channel is the performance. The Single Channel is made of 1 chip of memory versus 2 chips for the Dual Channel, since both chips can work simultaneously, the Dual Channel can reach 40MB/s read and the Single channel 20MB/s. In regards to compatibility, both version will be recognized the same way, configuration and compatbility are the same.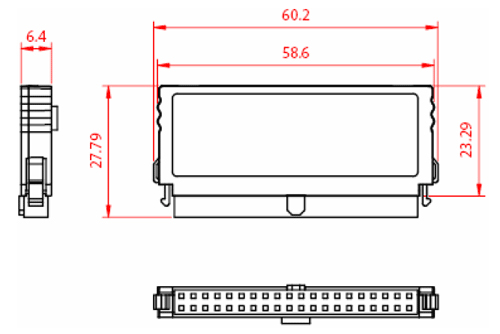 Other models available ( Variation)
Looking for pricing?

You can get sample price by clicking on the "details" button on each capacity.
If you need to get a budgetary price for your project, please contact us

Need technical info or advices?

Our mission is to help you finalizing your project successfully. By giving you some advices, we can help you reducing cost and time to market
Here is where you can reach us