Why memorydepot.com is your best choice for your apple products
> Lifetime Warranty
All our Apple Memory are covered by a lifetime warranty for replacement
> Warranty Safe Upgrade
Our Memory upgrade will not void your apple warranty
> Satisfaction guaranteed
We provide a 30 Days satisfaction guaranteed for replacement or refund on any Apple Memory upgrade
Save a lot!
Yes, we are charging a third of the factory upgrade cost!
How to find your Mac Model Identifier number: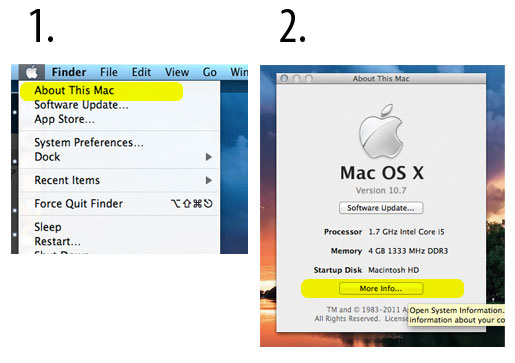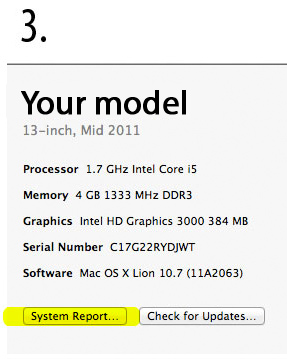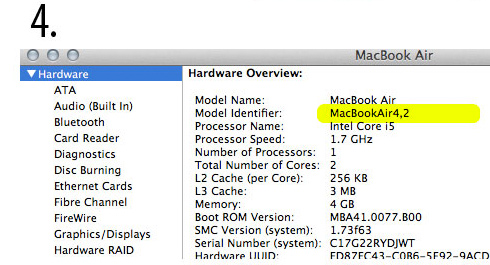 Remove or instatll memory Quick tip:

The internal components of your Apple may be hot If you have been using your Apple, wait ten minutes after turning off the computer to let the internal components cool Then you con remove and install your new Apple

Memory From Apple or Third-Party Memory?

It's common to add memory when you make your initial Mac purchase. Apple will install the memory, lest it and guarantee it with the same warranty as your new Mac if you are willing to pay far convenience, then going the Apple memory route is fine.

But if you want to save some cash you can get a better price from third-party suppliers. In most cases, you will also get a longer warranty. Many memory retailers offer lifetime warranties. Of course, you'll probably have to install the memory yourself, but it's an easy process, once that Apple even provides directions for in its manuals.

Does Apple memory need tu be instal? in pairs?

With the exception of I»imple RAM for the Mac Pro Model 1Ds 1,1 and 2,1 and the Mns Pro 3,1, no other Mac. requlres memory to be installed in a matched pain
Apple Memory




We have the right memory upgrades for every mac!


> Save up to 70% compared to the factory upgrade cost!





Apple Macbook Memory upgrade

2012-2013 Macbook Pro

2 MEMORY SLOTS MAX 16GB (2x8GB)

MacBook Pro 13" 2.5GHz dual-core Intel Core i5
MacBook Pro 13" 2.9GHz dual-core Intel Core i7
MacBook Pro 15" 2.3GHz quad-core Intel Core i7
MacBook Pro 15" 2.6GHz quad-core Intel Core i7
MacBook Pro 15" 2.7GHz quad-core Intel Core i7

Model identifier:
MacBookPro 9,1 MacBookPro 9,2
Find your model here
Recommended Memory Upgrade ( Lifetime warranty - 30 Days satisfaction guaranteed - Guaranteed Performance and compatibility)





Early 2011 Macbook Pro

2 MEMORY SLOTS MAX 16GB (2x8GB)

MacBook Pro 13" 2.3GHz dual-core Intel Core i5
MacBook Pro 13" 2.7GHz dual-core Intel Core i7
MacBook Pro 15" 2.0GHz quad-core Intel Core i7
MacBook Pro 15" 2.2GHz quad-core Intel Core i7
MacBook Pro 15" 2.3GHz quad-core Intel Core i7
MacBook Pro 17" 2.2GHz quad-core Intel Core i7
MacBook Pro 17" 2.3GHz quad-core Intel Core i7

Model identifier:
MacBookPro 8,1 MacBookPro 8,2 MacBookPro 8,3
Find your model here
Recommended Memory Upgrade ( Lifetime warranty - 30 Days satisfaction guaranteed - Guaranteed Performance and compatibility)





2010 MacBook and MacBook Pro 7,1 Models

2 MEMORY SLOTS MAX 16GB (2x8GB)


MacBook 13.3" 2.4GHz

Model identifier:
MacBookPro 7,1
Find your model here
Recommended Memory Upgrade ( Lifetime warranty - 30 Days satisfaction guaranteed - Guaranteed Performance and compatibility)





2008-2010 MacBook and MacBook Pro 'Unibody' Models

2 MEMORY SLOTS MAX 8GB (2x4GB)


MacBook Pro 13.3" 2.26GHz
MacBook Pro 13.3" 2.4GHz
MacBook Pro 13.3" 2.53GHz
MacBook Pro 13.3" 2.66GHz
MacBook Pro 15" 2.4GHz
MacBook Pro 15" 2.4GHz (Intel Core i5 processor)
MacBook Pro 15" 2.53GHz (Intel Core i5 processor)
MacBook Pro 15" 2.53GHz model w/SD Card Slot (June 2009)
MacBook Pro 15" 2.53GHz model w/ExpressCard Slot (Late 2008)*
MacBook Pro 15" 2.66GHz
MacBook Pro 15" 2.8GHz (Intel Core i7 processor)
MacBook Pro 15" 2.8GHz model w/ExpressCard Slot (Late 2008)*
MacBook Pro 15" 2.80GHz model w/SD Card Slot (June 2009)
MacBook Pro 15" 2.93GHz
MacBook Pro 15" 3.0GHz
MacBook Pro 17" 2.53GHz (Intel Core i5 processor)
MacBook Pro 17" 2.66GHz (Intel Core i7 processor)
MacBook Pro 17" 2.8GHz (Intel Core i7 processor)
MacBook Pro 17" 2.66GHz
MacBook Pro 17" 2.93GHz
MacBook Pro 17" 3.06GHz
MacBook 13.3" 2.0GHz

Model identifier:
MacBook 5,1 MacBookPro 5,1 MacBookPro 5,2 MacBookPro 5,3 MacBookPro 5,4 MacBookPro 5,5 MacBookPro 6,1 MacBookPro 6,2
Find your model here
Recommended Memory Upgrade ( Lifetime warranty - 30 Days satisfaction guaranteed - Guaranteed Performance and compatibility)





2009 White MacBook 13.3" Intel Core 2 Duo 2.13GHz

2 MEMORY SLOTS MAX 6GB (1x4GB + 1x2GB)

White MacBook 13.3" Intel Core 2 Duo 2.13GHz

Model identifier:
MacBook 5,2
Find your model here
Recommended Memory Upgrade ( Lifetime warranty - 30 Days satisfaction guaranteed - Guaranteed Performance and compatibility)





MacBook "Unibody" (October 2009 & May 2010)

2 MEMORY SLOTS MAX 8GB (2x4GB)
MAX 16GB (2x8GB) for Macbook7,1 only

MacBook "Unibody" (May 2010) 13.3" 2.4GHz
MacBook "Unibody" (October 2009) 13.3" 2.26GHz

Model identifier:
MacBook6,1 (max 8GB) MacBook7,1 (max 16GB)
Find your model here
Recommended Memory Upgrade ( Lifetime warranty - 30 Days satisfaction guaranteed - Guaranteed Performance and compatibility)





MacBook pre 2009 models

2 MEMORY SLOTS

MacBook Intel Core Duo 1.83GHz
MacBook Intel Core Duo 2.0GHz
MacBook Intel Core 2 Duo 1.83GHz
MacBook Intel Core 2 Duo 2.0GHz
MacBook Intel Core 2 Duo 2.1GHz
MacBook Intel Core 2 Duo 2.16GHz
MacBook Intel Core 2 Duo 2.2GHz
MacBook Intel Core 2 Duo 2.4GHz

Model identifier:

MacBook1,1 up to 2.0GB total memory
MacBook2,1 up to 4.0GB total memory, uses up to 3.0GB
MacBook3,1 up to 4.0GB total memory
MacBook4,1 up to 6.0GB total memory
MacBook5,2 **2.0GHz Model Only** up to 6.0GB total memory
Find your model here
Recommended Memory Upgrade ( Lifetime warranty - 30 Days satisfaction guaranteed - Guaranteed Performance and compatibility)





MacBook Pro Intel Core 2 Duo

2 MEMORY SLOTS

Up to 4GB Memory (2x2GB)
MacBook Pro 15" 2.16GHz
MacBook Pro 15" 2.33GHz
Macbook Pro 17" 2.33GHz

Up to 6GB Memory (1x4GB + 1x2GB)
MacBook Pro 15" 2.2GHz
MacBook Pro 15" 2.4GHz
MacBook Pro 15" 2.5GHz
MacBook Pro 15" 2.6GHz
MacBook Pro 17" 2.4GHz
MacBook Pro 17" 2.5GHz
MacBook Pro 17" 2.6GHz

Model identifier:
MacBookPro 2,1 MacBookPro 2,2 MacBookPro 3,1 MacBookPro4,1
Find your model here
Recommended Memory Upgrade ( Lifetime warranty - 30 Days satisfaction guaranteed - Guaranteed Performance and compatibility)





MacBook Pro Intel Core Duo

2 MEMORY SLOTS
MAXIMUM MEMORY: 2GB ( 2x1GB)

MacBook Pro Intel® Core Duo 15" 1.83GHz
MacBook Pro Intel Core Duo 15" 2.0GHz
MacBook Pro Intel Core Duo 15" 2.16GHz
MacBook Pro Intel Core Duo 17" 2.16GHz

Model identifier:
MacBook Pro 1,1 MacBook Pro 1,2.
Find your model here
Recommended Memory Upgrade ( Lifetime warranty - 30 Days satisfaction guaranteed - Guaranteed Performance and compatibility)











Apple Mac Mini Memory upgrade

MAC MINI MEMORY UPGRADE
We have all the memory for all the Apple Mac Mini models

Need help finding your model ?
Quick tip here
Lifetime Warranty
All our RAM are covered by a lifetime warranty for replacement
Warranty Safe Upgrade
Our Memory upgrade will not void your apple warranty
Satisfaction guaranteed
We provide a 30 Days satisfaction guaranteed for replacement or refund

MAC MINI Intel late 2012-2013

2 MEMORY SLOTS MAX 16GB (2x8GB)

Mac mini Late 2012 Mid 2011

Model identifier:
Mac Mini
Find your model here
Recommended Memory Upgrade ( Lifetime warranty - 30 Days satisfaction guaranteed - Guaranteed Performance and compatibility)





MAC MINI Intel 2011

2 MEMORY SLOTS MAX 16GB (2x8GB)

Mac mini 2.3GHz, 2.5GHz or 2.7GHz dual-core Intel Core i5 or quad-core i7 Mid 2011

Mac mini with Snow Leopard Server 2.0GHz quad-core Intel Core i7 Mid 2011

Model identifier:
Mac Mini 5,1 - 5,2 - 5,3
Find your model here
Recommended Memory Upgrade ( Lifetime warranty - 30 Days satisfaction guaranteed - Guaranteed Performance and compatibility)





MAC MINI Intel 2009-2010

2 MEMORY SLOTS MAX 8GB (2x4GB)

Mac mini 2.4GHz or 2.66GHz Intel Core 2 Duo Mid 2010
Mac mini with Snow Leopard Server 2.66GHz Intel Core 2 Duo Mid 2010
Mac mini 2.26GHz, 2.53GHz, or 2.66GHz Intel Core 2 Duo Late 2009
Mac mini with Snow Leopard Server 2.53GHz Intel Core 2 Duo Late 2009
Mac mini 2.0GHz or 2.26GHz Intel Core 2 Duo Early 2009

Model identifier:

Mac Mini 3,1
Mac Mini 4,1
Find your model here
Recommended Memory Upgrade ( Lifetime warranty - 30 Days satisfaction guaranteed - Guaranteed Performance and compatibility)





MAC MINI Intel 2006-2008

2 MEMORY SLOTS

Mac mini Intel Core Solo: up to 2GB (2x1GB)
Mac mini Intel Core Duo: up to 2GB (2x1GB)
Mac mini Intel Core 2 Duo: up to 4GB ( 2x2GB)

Model identifier:

Mac Mini 1,1
Mac Mini 2,1
Find your model here
Recommended Memory Upgrade ( Lifetime warranty - 30 Days satisfaction guaranteed - Guaranteed Performance and compatibility)





Apple Imac Memory upgrade
We have all the memory for all the Apple imac models

Need help finding your model ?
Quick tip here
Lifetime Warranty
All our RAM are covered by a lifetime warranty for replacement
Warranty Safe Upgrade
Our Memory upgrade will not void your apple warranty
Satisfaction guaranteed
We provide a 30 Days satisfaction guaranteed for replacement or refund

2017 iMAC Retina Recommended Memory Upgrade ( Lifetime warranty - 30 Days satisfaction guaranteed - Guaranteed Performance and compatibility)




Late 2015 iMAC Retina Recommended Memory Upgrade ( Lifetime warranty - 30 Days satisfaction guaranteed - Guaranteed Performance and compatibility)




iMAC & iMAC retina 2014/2015

MAX 16GB for 21.5" (2x8GB) MAX 32GB for 27" (4x8GB)

21.5" i5 2.7GHz
21.5" i5 2.9GHz
21.5" i7 3.1GHz
27" i5 2.9GHz
27" i5 3.2GHz
27" i7 3.4Ghz

Model identifier:
imac13,1 imac13,2
imac14,1 imac14,2
imac15,1
Find your model here
Recommended Memory Upgrade ( Lifetime warranty - 30 Days satisfaction guaranteed - Guaranteed Performance and compatibility)





iMAC mid/late 2011 Intel Core i3, i5, i7

4 MEMORY SLOTS MAX 32GB (4x8GB)

21.5" i5 2.5GHz
21.5" i5 2.7GHz
21.5" i7 2.8GHz
27" i5 2.7GHz
27" i5 3.1GHz
27" i7 3.4Ghz

Model identifier:
imac12,1 imac12,2
Find your model here
Recommended Memory Upgrade ( Lifetime warranty - 30 Days satisfaction guaranteed - Guaranteed Performance and compatibility)





iMAC july 2010 intel core i3, i5, i7

4 MEMORY SLOTS MAX 32GB (4x8GB)
i3 Processor will not accept 8GB - MAX 16GB (4x4GB)

21.5" i3 3.06GHz
21.5" i3 3.2GHz
21.5" i5 3.6GHz
27" i3 3.2GHz
27" i5 3.6GHz
27" i5 Quad-Core 2.8GHz
27" i7 Quad-Core 2.93Ghz

Model identifier:
imac11,2 imac11,3
Find your model here
Recommended Memory Upgrade ( Lifetime warranty - 30 Days satisfaction guaranteed - Guaranteed Performance and compatibility)





iMAC October 2009 intel corei5, i7

4 MEMORY SLOTS MAX 16GB (4x4GB)

21.5" 3.06GHz
21.5" 3.3GHz
27" 3.06GHz
27" 3.3GHz
27" i5 2.6GHz
27" i7 2.8Ghz

Model identifier:
imac10,1 imac11,1
Find your model here
Recommended Memory Upgrade ( Lifetime warranty - 30 Days satisfaction guaranteed - Guaranteed Performance and compatibility)





iMAC march 2009 Intel core 2 duo

2 MEMORY SLOTS MAX 8GB (2x4GB)

iMac 20" 2.66GHz
iMac 24" 2.66GHz
iMac 24" 2.93GHz
iMac 24" 3.06GHz

Model identifier:
imac9,1
Find your model here
Recommended Memory Upgrade ( Lifetime warranty - 30 Days satisfaction guaranteed - Guaranteed Performance and compatibility)





iMAC april 2008, intel core 2 duo

2 MEMORY SLOTS MAX 6GB (1x4GB + 1x2GB)

iMac 20" Core 2 Duo 2.4GHz
iMac 20" Core 2 Duo 2.66GHz
iMac 24" Core 2 Duo 2.8GHz
iMac 24" Core 2 Duo 3.06GHz

Model identifier:
imac8,1
Find your model here
Recommended Memory Upgrade ( Lifetime warranty - 30 Days satisfaction guaranteed - Guaranteed Performance and compatibility)





iMAC mid 2007 intel core 2 duo

2 MEMORY SLOTS MAX 6GB (1x4GB + 1x2GB)

iMac 2.0GHz Core 2 Duo
iMac 2.4GHz Core 2 Duo
iMac 2.8GHz Core 2 Extreme

Model identifier:
imac7,1
Find your model here
Recommended Memory Upgrade ( Lifetime warranty - 30 Days satisfaction guaranteed - Guaranteed Performance and compatibility)





iMAC September 2006 White intel core 2 duo

2 MEMORY SLOTS MAX 2GB (2x1GB)

iMac Core 2 Duo 1.83GHz
iMac Core 2 Duo 2.0GHz
iMac Core 2 Duo 2.16GHz
iMac Core 2 Duo 2.33GHz

Model identifier:
imac5,1 imac5,2 imac6,1
Find your model here
Recommended Memory Upgrade ( Lifetime warranty - 30 Days satisfaction guaranteed - Guaranteed Performance and compatibility)





iMAC Early 2006 White intel core duo

2 MEMORY SLOTS MAX 2GB (2x1GB)

iMac Intel Core Duo White

Model identifier:
imac4,1 imac4,2
Find your model here
Recommended Memory Upgrade ( Lifetime warranty - 30 Days satisfaction guaranteed - Guaranteed Performance and compatibility)





iMAC G5 17" & 20" 1.9Ghz / 2.1Ghz

1 MEMORY SLOT MAX 2GB (1x2GB)

iMac G5 1.9GHz & 2.1GHz models w/iSight

Model identifier:
PowerMac12,1
Find your model here
Recommended Memory Upgrade ( Lifetime warranty - 30 Days satisfaction guaranteed - Guaranteed Performance and compatibility)





iMAC G5 17" & 20" 1.6Ghz / 1.8Ghz / 2.0Ghz

2 MEMORY SLOTS MAX 2GB (2x1GB)

iMac G5 1.6GHz, 1.8GHz, & 2.0GHz models

Model identifier:
PowerMac8,1 PowerMac8,2
Find your model here
Recommended Memory Upgrade ( Lifetime warranty - 30 Days satisfaction guaranteed - Guaranteed Performance and compatibility)





iMAC G4 1Ghz & 1.25Gz

2 MEMORY SLOTS (1 SODIMM 1 DIMM) MAX 2GB (1GB SODIMM + 1GB DIMM)


iMac 20" G4 (USB 2.0) 1.25GHz
iMac 17" G4 (USB 2.0) 1.25GHz
iMac 15" G4 (USB 2.0) 1.0GHz
iMac 17" G4 (Flat Panel) 1.0GHz All iMac G4 models have two different types of memory slots:
One "user-installable" SO-DIMM slot
One "factory-installed" SDRAM slot "OWC highly recommends professional installation for this module"
To upgrade memory to your iMac G4's full capacity, one of each type should be installed.

Model identifier:
PowerMac6,1 PowerMac6,3
Find your model here
Recommended Memory Upgrade ( Lifetime warranty - 30 Days satisfaction guaranteed - Guaranteed Performance and compatibility)


iMAC G4 700Mhz & 800Mhz

1 MEMORY SLOT MAX 1GB (1GB SODIMM)


iMac 15" G4 (Early 2003) 800MHz
iMac 17" G4 (Flat Panel) 800MHz
iMac 15" G4 (Flat Panel) 800MHz
iMac 15" G4 (Flat Panel) 700MHz

Model identifier:
PowerMac4,2 PowerMac4,5
Find your model here
Recommended Memory Upgrade ( Lifetime warranty - 30 Days satisfaction guaranteed - Guaranteed Performance and compatibility)


Apple Mac Pro Memory upgrade

2013 Quad & 8 Core MAC PRO

4 MEMORY SLOTS MAX 64GB (4x16GB)

Quad or 6 ore

Intel XEON E5
DDR3 ECC 1866MHz
PC3-15000 ECC

Model identifier:

Find your model here
Recommended Memory Upgrade ( Lifetime warranty - 30 Days satisfaction guaranteed - Guaranteed Performance and compatibility)





2010-2012 Quad & 8 Core MAC PRO

4 or 8 MEMORY SLOTS MAX 64GB (8x8GB)

Quad-core
8-core
2.4GHz / 2.8GHz / 3.2GHz
DDR3 ECC 1066MHz
PC3-8500

Model identifier:
MacPro5,1
Find your model here
Recommended Memory Upgrade ( Lifetime warranty - 30 Days satisfaction guaranteed - Guaranteed Performance and compatibility)





2010-2012 6 & 12 Core MAC PRO

4 or 8 MEMORY SLOTS MAX 64GB (8x8GB)

6-core
12-core
2.66GHz / 2.93GHz /3.33GHz
DDR3 ECC 1333MHz
PC3-10600

Model identifier:
MacPro5,1
Find your model here
Recommended Memory Upgrade ( Lifetime warranty - 30 Days satisfaction guaranteed - Guaranteed Performance and compatibility)





2009 Quad & 8 Core MAC PRO

4 or 8 MEMORY SLOTS MAX 64GB (8x8GB)

Quad-Core
2.66GHz / 2.93GHz / 3.33GHz
8-Core
2.26GHz / 2.66GHz / 2.93GHz
1066MHz ECC

Model identifier:
MacPro4,1
Find your model here
Recommended Memory Upgrade ( Lifetime warranty - 30 Days satisfaction guaranteed - Guaranteed Performance and compatibility)





2008 Quad & 8 Core MAC PRO

4 or 8 MEMORY SLOTS MAX 32GB (8x4GB)

Quad-Core
2.8GHz
8-Core
2.8GHz/3.0GHz/3.2GHz

Model identifier:
MacPro3,1
Find your model here
Recommended Memory Upgrade ( Lifetime warranty - 30 Days satisfaction guaranteed - Guaranteed Performance and compatibility)





2006-2007 Dual & Quad Core MAC PRO

4 or 8 MEMORY SLOTS MAX 32GB (8x4GB)

2006
Dual-Core
2.0GHz/2.66GHz/3.0GHz
2007
Quad-Core
3.0GHz

Model identifier:
MacPro1,1 MacPro2,1
Find your model here
Recommended Memory Upgrade ( Lifetime warranty - 30 Days satisfaction guaranteed - Guaranteed Performance and compatibility)