A PHP Error was encountered
Severity: Warning

Message: A non-numeric value encountered

Filename: ssd/inc_newheader.php

Line Number: 33

background='https://www.memorydepot.com/ssd/images/bigim.jpg' >

Solid State Drives Hi-Speed 2.5 Flash Disk SATA 4000
The SATA Solid State Disk is the next generation of storage device based on industrial flash memory technology, which emulates an ordinary magnetic hard disk.

Built for speed, these Solid State Storage Devices need no moving or spinning parts, and that makes no mechanical noise, suitable for used in portable or embedded system, which has only limited power consumption. The Flash Disk Drive products are also free from extra and special algorithm or some firmware driver. Just plug the unit into the SATA slots and operate it as same as a regular Hard Disk Drives.

These high-speed SSD units provide faster and higher performance storage solution for industrial application, embedded computing, high-speed networking, broadband communications, mobile computing, military, medical and aerospace

In Addition of high-performance, the devices are capable of withstanding a higher dree of enivornmental distress, delivering extreme endurance.






Commercial Temperature Operating Range: 0c to +70c


Why buy this Industrial SATA Solid State Flash Disk from MemoryDepot.com?
Extremly reliable Flash SLC memory for your industrial application Exclusive iSmart monitoring system check health of the unit.
Worldwide & Direct Access to Support & Engineering
Dedicated Sales Representative
Buy samples onlines and get competitive volume pricing
InnoDisk FiD 2.5 SATA4000 products provide high capacity flash memory Solid State Drive (SSD) that electrically complies with Serial ATA (SATA) standard. InnoDisk FiD 2.5 SATA4000 support SATA I standard (1.5Hz) with high performance. Sustain read is 37MB(Max) per second, and sustain write is 34MB(Max) per second. InnoDisk FiD 2.5 SATA4000 uses standard 2.5-inch form factor, which can be used in laptop. InnoDisk FiD 2.5 SATA4000 is also designed for industrial field.

The SSD have good performance, and have small latency time. It effectively reduces the booting time of operation system and the power consumption is less than hard disk drive (HDD). InnoDisk FiD 2.5 SATA4000 can work in harsh environment. The SSD is vibration resistance, and can work in lower or higher temperature than HDD. InnoDisk FiD 2.5 SATA4000 complies with ATA protocol, no additional drives are required, and the SSD can be configured as a boot device or data storage device.
Burst Transfer Rate : 1.5GB/sec
Sustained Read :
Duel Channel: 37MB/sec
Single Channel: 20MB/sec
Sustained Write :
Duel Channel:
34MB/sec
Single Channel: 20MB/sec
Average Latency : 0.4 ms
DC Input Voltage: +3.3V/+5V Single power supply
Dimension: 99.88/69.63/9.3 mm (W/T/H)
Compatibility: CE and FCC standards
| | |
| --- | --- |
| | No additional device drivers are required. Flash in Disk (FiD) 2.5 SATA4000 can be configured as a boot device. |
| | |
| --- | --- |
| | Flash memory can be erased within a limited number of times. This number is called the erase cycle limit or write endurance limit and is defined by the flash array vendor. The erase cycle limit applies to each individual erase block in the flash device. InnoDisk FiD 2.5 SATA4000 uses a wear-leveling algorithm to ensure that consecutive writes of a specific sector are not written physically to the same page/block in the flash. This spreads flash media usage evenly across all pages, thereby extending flash lifetime. |
Environmental Specifications
Operating Temperature Range
Standard Grade: -100C ~ +700C
Industrial Grade: -400C ~ +850C
Storage Temperature Range
Standard Grade: -550C to +950C
Industrial Grade: -550C to +950C
Reliability Test Conditions
Vibration: 7 Hz to 700Hz, 2 g, 3 axes
Mechanical Shock Duration: 0.5ms, 1500 g, 3 axes
Drop Unit: From a height of 1.5 m
Product Condition MTBF (Hours): FiD 2.5 ATA6000 Telcordia SR-332 GB, 25 0CC > 3,000,000

| | | | | |
| --- | --- | --- | --- | --- |
| Capacity | Cylinders | Heads | Sectors | LBA |
| 128MB | 249 | 16 | 63 | 250992 |
| 256MB | 499 | 16 | 63 | 502992 |
| 512MB | 999 | 16 | 63 | 1006992 |
| 1GB | 1999 | 16 | 63 | 2014992 |
| 2GB | 3965 | 16 | 63 | 3996720 |
| 4GB | 7931 | 16 | 63 | 7994448 |
| 8GB | 15863 | 16 | 63 | 15989904 |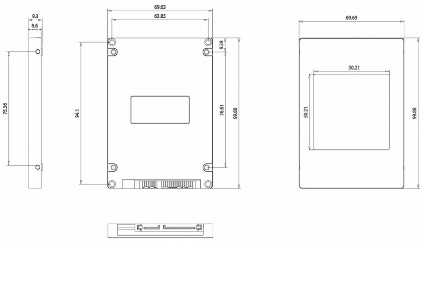 Variation from the same product line:
1.8 inch Industrial SATA SSD 2ME
1.8 inch Industrial SATA SSD 2ME Wide Temp
1.8" SATA SSD Industrial SSD 3SE SLC
1.8" SATA SSD Industrial SSD 3SE SLC Wide Temp
1.8" SATA SSD Industrial SSD 3SR-P SLC
1.8" SATA SSD Industrial SSD 3SR-P SLC Wide Temp
1.8" SATA SSD 3MG2-P with L95 (Industrial, Standard Grade, 0? ~ +70?)
1.8" SATA SSD 3MG2-P with L95 (Industrial, W/T Grade, -40? ~ +85?)
1.8" SATA SSD 3MG3-P w/ Toshiba 15nm (Industrial, Standard Grade, 0? ~ +70?)
1.8" SATA SSD 3MG3-P w/ Toshiba 15nm(Industrial, W/T Grade, -40? ~ +85?)
1.8" SATA SSD 3MR3-P w/ Toshiba 15nm (Industrial, W/T Grade, -40? ~ +85?)
1.8" SATA SSD 3MR3-P w/ Toshiba 15nm(Industrial, Standard Grade, 0? ~ +70?)
1.8" SATA SSD 3SE (Industrial, Standard Grade, 0? ~ +70?)
1.8" SATA SSD 3SE(Industrial, W/T Grade, -40 ~ 85?, Thermal Sensor)
1.8" SATA SSD 3SE3-P (Industrial, Standard Grade, 0? ~ +70?)
1.8" SATA SSD 3SE3-P(Industrial, W/T Grade, -40 ~ 85?, Thermal Sensor)
1.8" SATA SSD 3SR-P( High IOPS, Industrial, W/T Grade, -40 ~ 85?, Thermal Sensor)
1.8" SATA SSD 3SR-P(High IOPS, Industrial, Standard Grade, 0? ~ +70?)
2.5 SATA 10000 plus Hi-Speed Solid State Flash Disk
2.5 SATA 10000 plus Hi-Speed Solid State Flash Disk Wide Temp
2.5" SATA SSD Industrial SSD 3SE SLC Wide Temp
2.5" SATA SSD Industrial SSD 3SE-P SLC
2.5" SATA SSD Industrial SSD 3SE-P SLC
2.5" SATA SSD Industrial SSD 3SE-P SLC Wide Temp
2.5" SATA SSD Industrial SSD 3SE-P SLC Wide Temp
2.5" SATA SSD Industrial SSD 3SR-P SLC
2.5" SATA SSD Industrial SSD 3SR-P SLC Wide Temp
2.5" SATA SSD 3IE2-P w/ Toshiba 15nm (iCell, Industrial, W/T Grade, -40? ~ +85?)
2.5" SATA SSD 3IE2-P w/ Toshiba 15nm( iCell, Industrial, Standard Grade, 0? ~ +70?)
2.5" SATA SSD 3IE3 w/ Toshiba 15nm (Industrial, W/T Grade, -40? ~ +85?)
2.5" SATA SSD 3IE3 w/ Toshiba 15nm(Industrial, Standard Grade, 0? ~ +70?)
2.5" SATA SSD 3IE4 w/ Toshiba 15nm(Industrial, Standard Grade, 0? ~ +70?)
2.5" SATA SSD 3IE4 w/ Toshiba 15nm(Industrial, W/T Grade, -40? ~ +85?)
2.5" SATA SSD 3ME2 w/ Toshiba 15nm (Industrial, Standard Grade, 0? ~ +70?)
2.5" SATA SSD 3ME3 w/ Toshiba 15nm(Industrial, Standard Grade, 0? ~ +70?)
2.5" SATA SSD 3ME3 w/ Toshiba 15nm(Industrial, W/T Grade, -40? ~ +85?)
2.5" SATA SSD 3ME4 w/ Toshiba 15nm(Industrial, Standard Grade, 0? ~ +70?)
2.5" SATA SSD 3ME4 w/ Toshiba 15nm(Industrial, W/T Grade, -40? ~ +85?)
2.5" SATA SSD 3MG2-P with L95 (High IOPS, Industrial, Standard Grade, 0? ~ +70?)
2.5" SATA SSD 3MG2-P with L95(High IOPS, Industrial, W/T Grade, -40? ~ +85?)
2.5" SATA SSD 3MG2-P with L95(iCell, High IOPS, Industrial, W/T Grade, -40? ~ +85?)
2.5" SATA SSD 3MG2-P_AES with L95 (High IOPS, Industrial, Standard Grade, 0? ~ +70?)
2.5" SATA SSD 3MG2-P_AES with L95(High IOPS, Industrial, W/T Grade, -40? ~ +85?)
2.5" SATA SSD 3MR3-P w/ Toshiba 15nm(iCell, High IOPS, Industrial, Standard Grade, 0? ~ +70?)
2.5" SATA SSD 3MR3-P w/ Toshiba 15nm(iCell, High IOPS, Industrial, W/T Grade, -40? ~ +85?)
2.5" SATA SSD 3SE (Industrial, W/T Grade, -40 ~ 85?, Thermal Sensor)
2.5" SATA SSD 3SE(Industrial, Standard Grade, 0? ~ +70?)
2.5" SATA SSD 3SE-P(iCell, High IOPS, Industrial, Standard Grade, 0? ~ +70?)
2.5" SATA SSD 3SE-P(iCell, High IOPS, Industrial, W/T Grade, -40 ~ 85?, Thermal Sensor)
2.5" SATA SSD 3SE3 (Industrial, W/T Grade, -40 ~ 85?, Thermal Sensor)
2.5" SATA SSD 3SR-P((iCell, High IOPS, Industrial, W/T Grade, -40 ~ 85?, Thermal Sensor)
2.5" SATA SSD 3SR-P(iCell, High IOPS, Industrial, Standard Grade, 0? ~ +70?)
2.5" SATA SSD 3SR3-P (iCell, High IOPS, Industrial, Standard Grade, 0? ~ +70?)
2.5" SATA SSD 3SR3-P((iCell, High IOPS, Industrial, W/T Grade, -40 ~ 85?, Thermal Sensor)
FiD 1.8" Industrial SSD SATA D150 SSD SLC
FiD 1.8" SATA Industrial SSD D150 SSD SLC Wide Temp
FiD 1.8" SATA Industrial SSD 25000 SL Wide Temp
FiD 1.8" SATA Industrial SSD 25000 SLC
FiD 2.5" SATA 25000 with Toshiba(iCell, Industrial, W/T Grade, -40 ~ 85?, Thermal Sensor)
Industrial 2.5 SATA SSD 3MG-P MLC
Industrial 2.5'' SATA SSD 3IE iSLC
Industrial 2.5'' SATA SSD 3IE iSLC Wide Temp
Industrial 1.8 SATA SSD 3ME MLC
Industrial 1.8 SATA SSD 3ME MLC Wide Temp
Industrial 1.8 SATA SSD 3MR-P MLC
Industrial 2.5 SATA SSD 3ME MLC
Industrial 2.5 SATA SSD 3ME MLC Wide Temp
Industrial 2.5 SATA SSD 3ME2
Industrial 2.5 SATA SSD 3ME2 Wide Temp
Industrial 2.5 SATA SSD 3MG-P iCell MLC Wide Temp
Industrial 2.5 SATA SSD 3MG-P iCell MLC
Industrial 2.5 SATA SSD 3MG-P MLC Wide Temp
Industrial 2.5 SATA SSD 3MG2-P iCell
Industrial 2.5 SATA SSD 3MG2-P iCell Wide Temp
Industrial 2.5 SATA SSD 3MG2-P with L95
Industrial 2.5 SATA SSD 3MG2-P with L95 Wide Temp
Industrial 2.5 SATA SSD 3MG2-P with L95 Wide Temp with icell
Industrial 2.5 SATA SSD 3MG2-P with L95 with icell
Industrial 2.5 SATA SSD 3MR-P MLC
Industrial 2.5 SATA SSD 3MR-P MLC Wide Temp
Industrial nanoSSD 3IE DEMO KIT iSLC 3
Industrial nanoSSD 3ME MLC 4
InnoLite II 2.5'' SATA SSD
InnoLite II 2.5'' SATA SSD Wide Temp
InnoRobust II Industrial SSD 1.8" SATA SSD SLC
InnoRobust II Industrial SSD 1.8" SATA SSD SLC Wide Temp
iSLC Solid State Drives 2.5 Flash Disk SATA 2IE
Slim SSD 3ME MLC
Slim SSD 3ME3 w/ Toshiba 15nm(Industrial, Standard Grade, 0? ~ +70?)
Slim SSD 3ME3 w/ Toshiba 15nm(Industrial, W/T Grade, -40? ~ +85?)
Slim SSD 3ME4 w/ Toshiba 15nm(Industrial, Standard Grade, 0? ~ +70?)
Slim SSD 3ME4(Industrial, W/T Grade, -40? ~ +85?)
Solid State Drives 2.5 Flash Disk EverGreen 2.5'' SATA SSD
Solid State Drives 2.5 Flash Disk EverGreen Plus 2.5'' SATA SSD
Solid State Drives 2.5 Flash Disk EverGreen Plus 2.5'' SATA SSD Wide Temp
Solid State Drives 2.5 Flash Disk SATA EVERGREEN Wide Temp
Solid State Drives 2.5 Flash Disk SATA III 3SE SLC Embedded
Solid State Drives Hi-Speed 2.5 Flash Disk SATA 4000
Solid State Drives Hi-Speed 1.8 Flash Disk SATA D150
Solid State Drives Hi-Speed 1.8 Flash Disk SATA D150 Wide temp
Solid State Drives Hi-Speed 2.5 Flash Disk SATA 25000 Industrial
Solid State Drives Hi-Speed 2.5 Flash Disk SATA 25000 Wide Temp
Solid State Drives Hi-Speed 2.5 Flash Disk SATA 4000 Wide Temp
Solid State Drives Hi-Speed 2.5 Flash Disk SATA INNOROBUST II
Solid State Drives Hi-Speed 2.5 Flash Disk SATA INNOROBUST II Wide Temp
Solid State Drives Innorobust II 2.5 Flash Disk SATA SSD MLC
Solid State Drives Innorobust II 2.5 Flash Disk SATA SSD MLC Wide Temp
Solid State Drives SATA III Hi-Speed and IOPS 2.5 Flash Disk SATA SSD MLC
Looking for pricing?

You can get sample price by clicking on the "details" button on each capacity.
If you need to get a budgetary price for your project, please contact us

Need technical info or advices?

Our mission is to help you finalizing your project successfully. By giving you some advices, we can help you reducing cost and time to market
Here is where you can reach us