A PHP Error was encountered
Severity: Warning

Message: A non-numeric value encountered

Filename: ssd/inc_newheader.php

Line Number: 33

background='https://www.memorydepot.com/ssd/images/bigim.jpg' >

iSLC Technology
The iSLC is an exclusive Flash technology, lasting 10 times longer than MLC, Performing just as well as SLC, at a much lower cost.
SLC is proprietary flash memory storage technology that was developed by Innodisk utilizing our own firmware know-how. This exclusive technology ensures longer-lasting and more reliable performance than conventional MLC NAND flash. With iSLC, NAND flash will last 10 times longer than MLC-based flash, delivering up to 30,000 times more endurance and performing just as well as SLC-based flash, but at a lower cost. Clearly, this is an excellent performance-cost balance alternative for solid state drives (SSDs).
Innodisk's iSLC technology divides into four states of 00, 10, 01, 11, and then increases the sensitivity of the delta between each level to enhance endurance and reliability. This means that iSLC is essentially performing at almost the same level as SLC NAND flash, and at the same time, providing a boost to Program/Erase (P/E) cycles.
iSLC is set to potentially replace MLC as a better performing and more cost-effective NAND flash as MLC flash technology performance declines over time and no longer serves the needs of future applications.
iSLC has 30,000 Program Erase Cycles. SSDs with iSLC can sustain 32GB capacity drive writes per day for over 7 years, delivering a lifespan that is suitable for industrial and enterprise applications.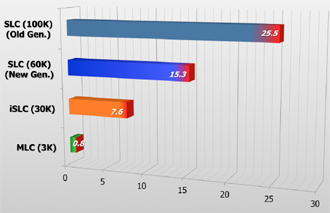 >> Browse our full list of iSLC products
iSLC Industrial Compact Flash 1IE series
iSLC Solid State Drives 2.5 Flash Disk SATA 2IE
Industrial CF SATA 2IE
Disk on Module SATA SATADOM QVL 2IE iSLC
Disk on Module SATA SATADOM QV 2IE iSLC
Industrial 2.5'' SATA SSD 3IE iSLC Wide Temp
Industrial CFast 3IE iSLC Wide Temp
SATADOM-MV 3IE iSLC
SATADOM-MV 3IE iSLC Wide Temp
Disk on Module SATA SATADOM MV 3IE - Built-in Power Pin 7
Disk on Module SATA SATADOM MV 3IE - Built-in Power Pin 7 Wide Temp
SATADOM-MV 3IE iSLC Wide Temp
SATA Slim 3IE iSLC Wide Temp
SATA Slim 3IE iSLC
SATADOM-MV 3IE iSLC
SATADOM-MH 3IE iSLC
Industrial 2.5'' SATA SSD 3IE iSLC
Industrial nanoSSD 3IE DEMO KIT iSLC 3
MSATA mini 3IE iSLC Wide Temp
MSATA mini 3IE iSLC
mSATA 3MG-P MLC Wide Temp
mSATA 3IE iSLC Wide Temp
mSATA 3IE iSLC
CF-SATA iSLC 3IE Wide Temp
CF-SATA iSLC 3IE
Industrial CFast 3IE iSLC
SATADOM-MH 3IE iSLC Wide Temp
ServerDOM 3IE
ServerDOM 3IE Pin7 VCC Supported
Industrial SD Card iSLC
Industrial SD Card iSLC Wide Temp
CFast 3IE4 w/ Toshiba 15nm(Industrial, W/T Grade, -40 ~ 85?)
SATADOM-SV 3IE4 with Pin8/Pin7 VCC Supported w/ Toshiba 15nm(Industrial, Standard Grade, 0? ~ +70?)
SATADOM-SV 3IE4 with Pin8/Pin7 VCC Supported(Industrial, W/T Grade, -40 ~ 85?)
2.5" SATA SSD 3IE2-P w/ Toshiba 15nm( iCell, Industrial, Standard Grade, 0? ~ +70?)
2.5" SATA SSD 3IE2-P w/ Toshiba 15nm (iCell, Industrial, W/T Grade, -40? ~ +85?)
2.5" SATA SSD 3IE3 w/ Toshiba 15nm(Industrial, Standard Grade, 0? ~ +70?)
2.5" SATA SSD 3IE3 w/ Toshiba 15nm (Industrial, W/T Grade, -40? ~ +85?)
SATA Slim 3IE3 w/ Toshiba 15nm(Industrial, Standard Grade, 0? ~ +70?)
SATA Slim 3IE3 w/ Toshiba 15nm (Industrial, W/T Grade, -40? ~ +85?)
mSATA 3IE3 w/ Toshiba 15nm(Industrial, Standard Grade, 0? ~ +70?)
mSATA 3IE3 with Toshiba 15nm(Industrial, W/T Grade, -40? ~ +85?)
mSATA mini 3IE3 w/ Toshiba 15nm(Industrial, Standard Grade, 0? ~ +70?)
mSATA mini 3IE3 with Toshiba 15nm(Industrial, W/T Grade, -40? ~ +85?)
M.2 (S42) 3IE3 w/ Toshiba 15nm(Standard Grade, 0? ~ +70?)
M.2 (S42) 3IE3 (Industrial, W/T Grade, -40 ~ 85?)
CFast 3IE3 w/ Toshiba 15nm(Industrial, Standard Grade, 0? ~ +70?)
CFast 3IE3(Industrial, W/T Grade, -40 ~ 85?)
SATADOM-SV 3IE3 V2 with Pin8/Pin7 VCC Supported w/ Toshiba 15nm(Industrial, Standard Grade, 0? ~ +7
SATADOM-SV 3IE3 V2 with Pin8/Pin7 VCC Supported(Industrial, W/T Grade, -40 ~ 85?)
SATADOM-SL 3IE3 V2 with Pin8/Pin7 VCC Supported w/ Toshiba 15nm(Industrial, Standard Grade, 0? ~ +7
SATADOM-SL 3IE3 V2 with Pin8/Pin7 VCC Supported(Industrial, W/T Grade, -40 ~ 85?)
SATADOM-SH 3IE3 V2 with Pin8/Pin7 VCC Supported w/ Toshiba 15nm(Industrial, Standard Grade, 0? ~ +70
SATADOM-SH 3IE3 V2 with Pin8/Pin7 VCC Supported(Industrial, W/T Grade, -40 ~ 85?)
SATADOM-ML 3IS4 Standard and Pin8 VCC(Enterprise, Standard Grade, 0? ~ +70?)
Mini PCIeDOM 1IE3 w/ Toshiba 15nm(Industrial, Standard Grade, 0? ~ +70?)
Mini PCIeDOM 1IE3(Industrial, W/T Grade, -40 ~ 85?)
SD Card (3.0) iSLC with Toshiba 15nm(Industrial, Standard Grade, -20? ~ +85?)
SD Card (3.0) iSLC with Toshiba 15nm(Industrial, W/T Grade, -40 ~ 85?)
ServerDOM-L 3IE3 Pin8 VCC Supported (Industrial, Standard Grade, 0? ~ +70?)
ServerDOM-L 3IE3 Pin8 VCC Supported (Industrial, W/T Grade, -40 ~ 85?)
ServerDOM-V 3IE3 (Industrial, Standard Grade, 0? ~ +70?)
ServerDOM-V 3IE3 (Industrial, W/T Grade, -40 ~ 85?)
nanoSSD 3IE3(Industrial, Standard Grade, 0? ~ +70?)
nanoSSD 3IE3(Industrial, W/T Grade, -40 ~ 85?)
SATA Slim 3IE4 w/ Toshiba 15nm(Industrial, Standard Grade, 0? ~ +70?)
SATA Slim 3IE4(Industrial, W/T Grade, -40? ~ +85?)
mSATA 3IE4 w/ Toshiba 15nm(Industrial, Standard Grade, 0? ~ +70?)
mSATA 3IE4 with Toshiba 15nm(Industrial, W/T Grade, -40? ~ +85?)
mSATA mini 3IE4 w/ Toshiba 15nm(Industrial, Standard Grade, 0? ~ +70?)
mSATA mini 3IE4 with Toshiba 15nm(Industrial, W/T Grade, -40? ~ +85?)
M.2 (S42) 3IE4 w/ Toshiba 15nm(Standard Grade, 0? ~ +70?)
M.2 (S42) 3IE4 (Industrial, W/T Grade, -40 ~ 85?)
CFast 3IE4 w/ Toshiba 15nm(Industrial, Standard Grade, 0? ~ +70?)
SATADOM-SL 3IE4 with Pin8/Pin7 VCC Supported w/ Toshiba 15nm(Industrial, Standard Grade, 0? ~ +70?)
SATADOM-SL 3IE4 with Pin8/Pin7 VCC Supported(Industrial, W/T Grade, -40 ~ 85?)
| | |
| --- | --- |
| | We sell online & Distribute Worldwide |
Currency:




We Ship Worldwide


In business since 2003.
Sitemap
Xitrade Inc -
Sister company: Pictorem.com
Product categories:

Computer Memory
Flash Memory
Storage & Duplication
Industrial Solid State Storage
Hardware & Accessories
Manufacturer List
Help & Support

My account
Technical suport
Track/Request a Return
Shipping & Delivery
Payments
FAQ
Company Information

About us
Why buy from us ?
Contact us
We are hiring!
Sales & Return Policy
Your privacy