A PHP Error was encountered
Severity: Warning

Message: A non-numeric value encountered

Filename: ssd/inc_newheader.php

Line Number: 33

background='https://www.memorydepot.com/ssd/images/bigim.jpg' >

Disk on Module DOM SATA D150 Vertical Low Profile (Phasing out)
The SATA DOM D150S product line is the latest generation of SLC SATA Disk on Module. Connected directly to the motherboard. It supports SATA II Standard (3.0Gb/s) interface with excellent and fast data transfer rate; in sustain read 25MB/s (max.) and sustain write 15MB/s (max.). Moreover, Innodisk SATADOM is the smallest form factor in the world that enhances functionality with various design applications.

Features:
Zero Mechanical Interference
High Reliability
Anti-Vibration Connector Design
Build-in Power Pin Design
Intelligent Wear Leveling
Auto ECC Function


Available in 128MB to 16GB

InnoDisk SATADOM D150S is also suitable in industrial field. It effectively reduces the booting time of operation system and the power consumption is less than hard disk drive (HDD). InnoDisk SATADOM D150S can work under harsh environment and complies with ATA protocol, no additional drives are required, and the SSD can be configured as a boot device or data storage device.






Commercial Temperature Operating Range: 0c to +70c


Why buy this SATA DOM D150 Vertical Low Profile from MemoryDepot.com?
Extremly reliable Flash SLC memory for your industrial application Exclusive iSmart monitoring system check health of the unit.
Worldwide & Direct Access to Support & Engineering
Dedicated Sales Representative
Buy samples onlines and get competitive volume pricing
Interface: Support SATA II Interface with Compliant with Serial ATA Gen 1
Capacity: Provide 128MB, 256MB, 512MB, 1GB, 2GB, 4GB, 8GB within SLCs
| | |
| --- | --- |
| | Flash memory can be erased a limited number of times. This number is called the erase cycle limit or write endurance limit and is defined by the flash array vendor. The erase cycle limit applies to each individual erase block in the flash device. InnoDisk SATADOM D150SV-L uses a wear-leveling algorithm to ensure that consecutive writes of a specific sector are not written physically to the same page in the flash. This spreads flash media usage evenly across all pages, thereby maximizing flash lifetime. |
Environmental Specifications
Operating Temperature Range
Standard Grade: 00C to +700C

Industrial Grade: -4-400C to +850C

Storage Temperature Range: -550C to +950C
Relative Humidity: 10-95% , Non-Condensing

| | |
| --- | --- |
| Reliability | Test Conditions |
| Vibration | 7 Hz to 2KHz, 5G, 3 axes |
| Mechanical Shock | Duration: 10ms, 50G, 3 Axes |

| | | |
| --- | --- | --- |
| Product | Condition | MTBF(Hours) |
| InnoDisk SATADOM D150SV-L | TELECORDIA SR-332 GB, 250C | >4,000,000 |
Transfer mode and Power consumption
InnoDisk SATADOM D150SV-L uses a standard SATA pin-out. See List for InnoDisk SATADOM D150SV-L pin assignments.

PIO Mode: 0~4

Ultra DMA: 0~6
Serial ATA I 1.5Gbps
Serial ATA II 3.0Gbps



Power Consumption
Mode
Power Consumption(mA)
Read
165
Write
165
Idle
70



Power Requirement
Item
Symbol
Rating
Unit
Input voltage
VIN
+5DC +-5% 500mA(max.)
V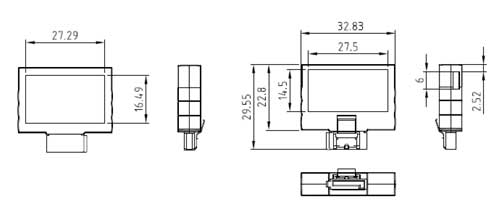 Variation from the same product line:
Disk on Module DOM SATA D150 Horizontal
Disk on Module DOM SATA D150 Horizontal Built-in Power (pin7)
Disk on Module DOM SATA D150 Horizontal Low Profile
Disk on Module DOM SATA D150 Horizontal Low Profile Built-in Power (pin7) Wide temp
Disk on Module DOM SATA D150 Horizontal Low Profile Built-in Power (pin7)
Disk on Module DOM SATA D150 Horizontal Low Profile Wide Temp
Disk on Module DOM SATA D150 Horizontal Low Profile Quad Channel
Disk on Module DOM SATA D150 Horizontal Low Profile Quad Channel Built-in Power
Disk on Module DOM SATA D150 Horizontal Low Profile Quad Channel Built-in Power Wide Temp
Disk on Module DOM SATA D150 Horizontal Low Profile Quad Channel Wide Temp
Disk on Module DOM SATA D150 Horizontal Low Profile Spacer Hole
Disk on Module DOM SATA D150 Horizontal Low Profile Spacer Hole Built-in Power
Disk on Module DOM SATA D150 Horizontal Low Profile Spacer Hole Built-in Power Wide Temp
Disk on Module DOM SATA D150 Horizontal Low Profile Spacer Hole Wide Temp
Disk on Module DOM SATA D150 Horizontal Wide Temp
Disk on Module DOM SATA D150 Vertical
Disk on Module DOM SATA D150 Vertical Built-in Power (pin7)
Disk on Module DOM SATA D150 Vertical Built-in Power (pin7) Wide Temp
Disk on Module DOM SATA D150 Vertical Low Profile
Disk on Module DOM SATA D150 Vertical Low Profile Built-in Power (pin7)
Disk on Module DOM SATA D150 Vertical Low Profile Built-in Power (pin7) Wide Temp
Disk on Module DOM SATA D150 Vertical Low Profile Wide Temp
Disk on Module DOM SATA D150 Vertical Quad Channel
Disk on Module DOM SATA D150 Vertical Quad Channel
Disk on Module DOM SATA D150 Vertical Quad Channel Built-in Power (pin7)
Disk on Module DOM SATA D150 Vertical Quad Channel Built-in Power (pin7) Wide Temp
Disk on Module DOM SATA D150 Vertical Quad Channel Low Profile Built-in Power (pin7)
Disk on Module DOM SATA D150 Vertical Quad Channel Low Profile Built-in Power (pin7) Wide temp
Disk on Module DOM SATA D150 Vertical Quad Channel Wide Temp
Disk on Module DOM SATA D150 Vertical Quad Channel Wide temp
Disk on Module DOM SATA D150 Vertical Quad Channel with Hook
Disk on Module DOM SATA D150 Vertical Quad Channel with Hook Built-in Power
Disk on Module DOM SATA D150 Vertical Quad Channel with Hook Built-in Power Wide Temp
Disk on Module DOM SATA D150 Vertical Quad Channel with Hook Wide Temp
Disk on Module DOM SATA D150 Vertical Wide Temp
Disk on Module DOM SATA Horizontal Built-in Power (pin7) Wide Temp
Disk on Module SATA SATADOM MV 3IE - Built-in Power Pin 7
Disk on Module SATA SATADOM MV 3IE - Built-in Power Pin 7 Wide Temp
Disk on Module SATA SATADOM QV 2IE iSLC
Disk on Module SATA SATADOM QVL 2IE iSLC
InnoLite SATADOM D150QH Horizontal
InnoLite SATADOM D150QH Horizontal Wide Temp
InnoLite SATADOM D150QV
InnoLite SATADOM D150QV P7 VCC Wide Temp
InnoLite SATADOM D150QV P7 VCC, Hook
InnoLite SATADOM D150QV P7 VCC, Hook Wide Temp
InnoLite SATADOM D150QV Wide Temp
InnoLite SATADOM D150QV-L Low Profile Power Pin 7 and Power Cable
SATA Slim 3ME3 MLC
SATA Slim 3ME3 MLC Wide Temp
SATADOM D150SH with Toshiba(Pin7 Integrated)(Industrial, Standard Grade, 0? ~ +70?)
SATADOM D150SH with Toshiba(Pin7 Integrated)(Industrial, W/T Grade, -40 ~ 85?)
SATADOM D150SH-L with Toshiba (Pin7 Integrated)(With Spacer Hole, Industrial, Standard Grade, 0? ~ +
SATADOM D150SH-L with Toshiba(Pin7 Integrated)(With Spacer Hole, Industrial, W/T Grade, -40 ~ 85?)
SATADOM D150SV with Toshiba (Pin7 Integrated)(Industrial, Standard Grade, 0? ~ +70?)
SATADOM D150SV with Toshiba(Pin7 Integrated)(Industrial, W/T Grade, -40 ~ 85?)
SATADOM D150SV-L with Toshiba(Pin7 Integrated)(Industrial, W/T Grade, -40 ~ 85?)
SATADOM D150SV-L with Toshiba (Pin7 Integrated)(Industrial, Standard Grade, 0? ~ +70?)
SATADOM-MH 3IE iSLC
SATADOM-MH 3IE iSLC Wide Temp
SATADOM-MH 3ME Wide Temp
SATADOM-MH 3ME MLC
SATADOM-MH 3ME MLC Wide Temp
SATADOM-MH 3ME3 MLC with Pin7 VCC Supported
SATADOM-MH 3ME3 MLC with Pin7 VCC Supported Wide Temp
SATADOM-MH 3ME3 with Pin7 VCC Supported w/ Toshiba 15nm(Industrial, Standard Grade, 0? ~ +70?)
SATADOM-MH 3ME3 with Pin7 VCC Supported w/ Toshiba 15nm(Industrial, W/T Grade, -40 ~ 85?)
SATADOM-MH 3ME4 with Pin7 VCC Supported w/ Toshiba 15nm(Industrial, Standard Grade, 0? ~ +70?)
SATADOM-MH 3ME4 with Pin7 VCC Supported w/ Toshiba 15nm(Industrial, W/T Grade, -40 ~ 85?)
SATADOM-MH 3SE Industrial Disk on Module SLC Wide Temp
SATADOM-MH Industrial Disk on Module 3SE SLC
SATADOM-MH Industrial Disk on Module 3SE SLC
SATADOM-MH Industrial Disk on Module 3SE SLC Wide Temp
SATADOM-ML 3IS4 Standard and Pin8 VCC(Enterprise, Standard Grade, 0? ~ +70?)
SATADOM-ML 3ME MLC
SATADOM-ML 3ME MLC Wide Temp
SATADOM-ML 3ME with Pin7 VCC Supported MLC
SATADOM-ML 3ME with Pin7 VCC Supported MLC Wide Temp
SATADOM-ML 3ME3 with Pin7 VCC Supported MLC
SATADOM-ML 3ME3 with Pin7 VCC Supported MLC Wide Temp
SATADOM-ML 3ME3 with Pin7 VCC Supported w/ Toshiba 15nm(Industrial, Industrial, W/T Grade, -40 ~ 85?
SATADOM-ML 3ME3 with Pin7 VCC Supported w/ Toshiba 15nm(Industrial, Standard Grade, 0? ~ +70?)
SATADOM-ML 3ME4 with Pin7 VCC Supported w/ Toshiba 15nm(Industrial, Industrial, W/T Grade, -40 ~ 85?
SATADOM-ML 3ME4 with Pin7 VCC Supported w/ Toshiba 15nm(Industrial, Standard Grade, 0? ~ +70?)
SATADOM-ML 3MG-P MLC Wide Temp
SATADOM-ML 3MG-P MLC 4
SATADOM-ML 3MG-P with Pin7 VCC Supported MLC
SATADOM-ML 3MG-P with Pin7 VCC Supported MLC 4 Wide Temp
SATADOM-ML 3MG2-P Standard and Pin8 VCC(High IOPS, Industrial, Standard Grade, 0? ~ +70?)
SATADOM-ML 3MS4 Pin7+Pin8 supported (Enterprise, Standard Grade, 0? ~ +70?)
SATADOM-ML 3MS4 Standard and Pin8 VCC(Enterprise, Standard Grade, 0? ~ +70?)
SATADOM-ML 3SE Industrial Disk on Module with Pin7 VCC SLC
SATADOM-ML 3SE Industrial Disk on Module with Pin7 VCC SLC Wide Temp
SATADOM-ML 3SE with Pin7 VCC Supported(Industrial, Standard Grade, 0? ~ +70?)
SATADOM-ML 3SE with Pin7 VCC Supported(Industrial, W/T Grade, -40 ~ 85?,, Thermal Sensor)
SATADOM-ML 3SE- Industrial Disk on ModuleP with Pin7 VCC SLC Wide Temp
SATADOM-ML 3SE-P Industrial Disk on Module SLC
SATADOM-ML 3SE-P Industrial Disk on Module SLC Wide Temp
SATADOM-ML 3SE-P Industrial Disk on Module with Pin7 VCC SLC
SATADOM-ML 3SE3 with Pin8/Pin7 VCC Supported (Industrial, Standard Grade, 0? ~ +70?)
SATADOM-ML 3SE3 with Pin8/Pin7 VCC Supported and power cable (Industrial, W/T Grade, -40 ~ 85?, Ther
SATADOM-MV 3IE iSLC
SATADOM-MV 3IE iSLC
SATADOM-MV 3IE iSLC Wide Temp
SATADOM-MV 3IE iSLC Wide Temp
SATADOM-MV 3ME MLC
SATADOM-MV 3ME MLC
SATADOM-MV 3ME MLC Wide Temp
SATADOM-MV 3ME with Pin7 VCC Supported MLC
SATADOM-MV 3ME with Pin7 VCC Supported MLC Wide Temp
SATADOM-MV 3ME3 with Pin7 VCC Supported MLC
SATADOM-MV 3ME3 with Pin7 VCC Supported MLC Wide Temp
SATADOM-MV 3ME3 with Pin7 VCC Supported(Industrial, Standard Grade, 0? ~ +70?)
SATADOM-MV 3ME3 with Pin7 VCC Supported(Industrial, W/T Grade, -40 ~ 85?)
SATADOM-MV 3ME4 with Pin7 VCC Supported w/ Toshiba 15nm(Industrial, Standard Grade, 0? ~ +70?)
SATADOM-MV 3ME4 with Pin7 VCC Supported w/ Toshiba 15nm(Industrial, W/T Grade, -40 ~ 85?)
SATADOM-MV 3SE Industrial Disk on Module SLC
SATADOM-MV 3SE with Pin7 VCC Supported(Industrial, Standard Grade, 0? ~ +70?)
SATADOM-MV 3SE with Pin7 VCC Supported(Industrial, W/T Grade, -40 ~ 85?, Thermal Sensor)
SATADOM-MV 3SE(Industrial, Standard Grade, 0? ~ +70?)
SATADOM-MV 3SE(Industrial, W/T Grade, -40 ~ 85?, Thermal Sensor)
SATADOM-SH 3IE3 V2 with Pin8/Pin7 VCC Supported w/ Toshiba 15nm(Industrial, Standard Grade, 0? ~ +70
SATADOM-SH 3IE3 V2 with Pin8/Pin7 VCC Supported(Industrial, W/T Grade, -40 ~ 85?)
SATADOM-SH 3ME MLC
SATADOM-SH 3ME MLC Wide Temp
SATADOM-SH 3ME with Pin7 VCC Supported MLC
SATADOM-SH 3ME with Pin7 VCC Supported MLC Wide Temp
SATADOM-SH 3ME3 with Pin7 VCC Supported MLC
SATADOM-SH 3ME3 with Pin7 VCC Supported MLC Wide Temp
SATADOM-SH 3ME3 with Pin7 VCC Supported w/ Toshiba 15nm(Industrial, Standard Grade, 0? ~ +70?)
SATADOM-SH 3ME3 with Pin7 VCC Supported w/ Toshiba 15nm(Industrial, W/T Grade, -40 ~ 85?)
SATADOM-SH 3ME4 with Pin7 VCC Supported w/ Toshiba 15nm(Industrial, Standard Grade, 0? ~ +70?)
SATADOM-SH 3ME4 with Pin7 VCC Supported w/ Toshiba 15nm(Industrial, W/T Grade, -40 ~ 85?)
SATADOM-SH 3SE Industrial Disk on Module SLC
SATADOM-SH 3SE Industrial Disk on Module SLC Wide Temp
SATADOM-SH 3SE Industrial Disk on Module with Pin7 VCC SLC
SATADOM-SH 3SE Industrial Disk on Module with Pin7 VCC SLC Wide Temp
SATADOM-SH 3SE3 Type C with Pin8/Pin7 VCC Supported (Industrial, Standard Grade, 0? ~ +70?)
SATADOM-SH 3SE3 Type C with Pin8/Pin7 VCC Supported (Industrial, W/T Grade, -40 ~ 85?, Thermal Senso
SATADOM-SH 3SE3 with Pin8/Pin7 VCC Supported (Industrial, Standard Grade, 0? ~ +70?)
SATADOM-SH 3SE3 with Pin8/Pin7 VCC Supported (Industrial, W/T Grade, -40 ~ 85?, Thermal Sensor)
SATADOM-SH Type C 3ME MLC
SATADOM-SH Type C 3ME with Pin7 VCC Supported MLC
SATADOM-SH Type C 3ME3 MLC
SATADOM-SH Type C 3ME3 MLC Wide Temp
SATADOM-SH Type C 3ME3 with Pin7 VCC Supported MLC
SATADOM-SH Type C 3ME3 with Pin7 VCC Supported MLC Wide Temp
SATADOM-SH TYPE C 3ME3 with Pin7 VCC Supported w/ Toshiba 15nm(Industrial, Standard Grade, 0? ~ +70?
SATADOM-SH TYPE C 3ME3 with Pin7 VCC Supported w/ Toshiba 15nm(Industrial, W/T Grade, -40 ~ 85?)
SATADOM-SH TYPE C 3ME4 with Pin7 VCC Supported w/ Toshiba 15nm(Industrial, Standard Grade, 0? ~ +70?
SATADOM-SH TYPE C 3ME4 with Pin7 VCC Supported w/ Toshiba 15nm(Industrial, W/T Grade, -40 ~ 85?)
SATADOM-SH TYPE C Industrial Disk on Module 3SE SLC
SATADOM-SH TYPE C Industrial Disk on Module 3SE SLC ( Built in Power on Pin7)
SATADOM-SH TYPE C Industrial Disk on Module 3SE SLC Wide Temp
SATADOM-SH TYPE C Industrial Disk on Module 3SE SLC Wide Temp ( Built in Power on Pin7)
SATADOM-SH Type D 3ME MLC
SATADOM-SH Type D 3ME MLC
SATADOM-SH Type D 3ME MLC Wide Temp
SATADOM-SH Type D 3ME MLC Wide Temp
SATADOM-SH Type D 3ME2 MLC
SATADOM-SH Type D 3ME2 MLC Wide Temp
SATADOM-SH Type D 3ME2 MLC Wide Temp with Pin7 VCC Supported MLC
SATADOM-SH Type D 3ME2 MLC with Pin7 VCC Supported MLC
SATADOM-SH Type D 3ME3 MLC
SATADOM-SH Type D 3ME3 MLC Wide Temp
SATADOM-SH Type D 3ME3 with Pin7 VCC Supported MLC
SATADOM-SH Type D 3ME3 with Pin7 VCC Supported MLC Wide Temp
SATADOM-SH TYPE D 3ME3 with Pin7 VCC Supported w/ Toshiba 15nm(Industrial, Standard Grade, 0? ~ +70?
SATADOM-SH TYPE D 3ME3 with Pin7 VCC Supported w/ Toshiba 15nm(Industrial, W/T Grade, -40 ~ 85?)
SATADOM-SH TYPE D 3ME4 with Pin7 VCC Supported w/ Toshiba 15nm(Industrial, Standard Grade, 0? ~ +70?
SATADOM-SH TYPE D 3ME4 with Pin7 VCC Supported w/ Toshiba 15nm(Industrial, W/T Grade, -40 ~ 85?)
SATADOM-SH TYPE D 3SE3 with Pin8/Pin7 VCC Supported (Industrial, Standard Grade, 0? ~ +70?)
SATADOM-SH TYPE D 3SE3 with Pin8/Pin7 VCC Supported (Industrial, W/T Grade, -40 ~ 85?, Thermal Senso
SATADOM-SH TYPE D Industrial Disk on Module 3SE SLC
SATADOM-SH TYPE D Industrial Disk on Module 3SE SLC Wide Temp
SATADOM-SH TYPE D Industrial Disk on Module 3SE with Pin7 VCC SLC
SATADOM-SH TYPE D Industrial Disk on Module 3SE with Pin7 VCC SLC 2 Wide Temp
SATADOM-SL 3IE3 V2 with Pin8/Pin7 VCC Supported w/ Toshiba 15nm(Industrial, Standard Grade, 0? ~ +7
SATADOM-SL 3IE3 V2 with Pin8/Pin7 VCC Supported(Industrial, W/T Grade, -40 ~ 85?)
SATADOM-SL 3IE4 with Pin8/Pin7 VCC Supported w/ Toshiba 15nm(Industrial, Standard Grade, 0? ~ +70?)
SATADOM-SL 3IE4 with Pin8/Pin7 VCC Supported(Industrial, W/T Grade, -40 ~ 85?)
SATADOM-SL 3ME MLC
SATADOM-SL 3ME MLC Wide Temp
SATADOM-SL 3ME with Pin7 VCC Supported MLC
SATADOM-SL 3ME with Pin7 VCC Supported MLC Wide Temp
SATADOM-SL 3ME2 MLC
SATADOM-SL 3ME2 MLC Built-in Power Pin 7
SATADOM-SL 3ME2 MLC Built-in Power Pin 7
SATADOM-SL 3ME2 MLC Wide Temp
SATADOM-SL 3ME3 with Pin7 VCC Supported MLC
SATADOM-SL 3ME3 with Pin7 VCC Supported MLC Wide Temp
SATADOM-SL 3ME3 with Pin7 VCC Supported w/ Toshiba 15nm(Industrial, Standard Grade, 0? ~ +70?)
SATADOM-SL 3ME3 with Pin7 VCC Supported w/ Toshiba 15nm(Industrial, W/T Grade, -40 ~ 85?)
SATADOM-SL 3ME4 with Pin7 VCC Supported w/ Toshiba 15nm(Industrial, Standard Grade, 0? ~ +70?)
SATADOM-SL 3ME4 with Pin7 VCC Supported w/ Toshiba 15nm(Industrial, W/T Grade, -40 ~ 85?)
SATADOM-SL 3SE Industrial Disk on Module SLC
SATADOM-SL 3SE Industrial Disk on Module SLC Wide Temp
SATADOM-SL 3SE Industrial Disk on Module with Pin7 VCC SLC
SATADOM-SL 3SE Industrial Disk on Module with Pin7 VCC SLC Wide Temp
SATADOM-SL 3SE3 with Pin8/Pin7 VCC Supported (Industrial, Standard Grade, 0? ~ +70?)
SATADOM-SL 3SE3 with Pin8/Pin7 VCC Supported and power cable (Industrial, W/T Grade, -40 ~ 85?, Ther
SATADOM-SV 3IE3 V2 with Pin8/Pin7 VCC Supported w/ Toshiba 15nm(Industrial, Standard Grade, 0? ~ +7
SATADOM-SV 3IE3 V2 with Pin8/Pin7 VCC Supported(Industrial, W/T Grade, -40 ~ 85?)
SATADOM-SV 3IE4 with Pin8/Pin7 VCC Supported w/ Toshiba 15nm(Industrial, Standard Grade, 0? ~ +70?)
SATADOM-SV 3IE4 with Pin8/Pin7 VCC Supported(Industrial, W/T Grade, -40 ~ 85?)
SATADOM-SV 3ME Wide Temp
SATADOM-SV 3ME MLC
SATADOM-SV 3ME MLC with Pin7 VCC Supported MLC
SATADOM-SV 3ME3 MLC with Pin7 VCC Supported
SATADOM-SV 3ME3 MLC with Pin7 VCC Supported Wide Temp
SATADOM-SV 3ME3 with Pin7 VCC Supported w/ Toshiba 15nm(Industrial, Standard Grade, 0? ~ +70?)
SATADOM-SV 3ME3 with Pin7 VCC Supported w/ Toshiba 15nm(Industrial, W/T Grade, -40 ~ 85?)
SATADOM-SV 3ME4 with Pin7 VCC Supported w/ Toshiba 15nm(Industrial, Standard Grade, 0? ~ +70?)
SATADOM-SV 3ME4 with Pin7 VCC Supported w/ Toshiba 15nm(Industrial, W/T Grade, -40 ~ 85?)
SATADOM-SV 3SE Industrial Disk on Module SLC
SATADOM-SV 3SE Industrial Disk on Module SLC Wide Temp
SATADOM-SV 3SE Industrial Disk on Module with Pin7 VCC SLC
SATADOM-SV 3SE with Pin7 VCC SLC Wide Temp
SATADOM-SV 3SE3 with Pin8/Pin7 VCC Supported (Industrial, Standard Grade, 0? ~ +70?)
SATADOM-SV 3SE3 with Pin8/Pin7 VCC Supported and power cable (Industrial, W/T Grade, -40 ~ 85?, Ther
ServerDOM 3IE
ServerDOM 3IE Pin7 VCC Supported
ServerDOM 3ME
ServerDOM-H 3IE3 Pin8 VCC Supported (Industrial, Standard Grade, 0? ~ +70?)
ServerDOM-H 3IE3 Pin8 VCC Supported (Industrial, W/T Grade, -40 ~ 85?)
ServerDOM-H 3ME3 Pin8 VCC Supported (Industrial, Standard Grade, 0? ~ +70?)
ServerDOM-H 3ME3 Pin8 VCC Supported (Industrial, W/T Grade, -40 ~ 85?)
ServerDOM-H 3SE Commercial Temp
ServerDOM-H 3SE Commercial Temp with Pin8+Pin7 VCC Supported
ServerDOM-H 3SE Wide Temp
ServerDOM-H 3SE WideTemp with Pin8+Pin7 VCC Supported
ServerDOM-L 3IE3 Pin8 VCC Supported (Industrial, Standard Grade, 0? ~ +70?)
ServerDOM-L 3IE3 Pin8 VCC Supported (Industrial, W/T Grade, -40 ~ 85?)
ServerDOM-L 3ME3 Pin8 VCC Supported (Industrial, Standard Grade, 0? ~ +70?)
ServerDOM-L 3ME3 Pin8 VCC Supported (Industrial, W/T Grade, -40 ~ 85?)
ServerDOM-L 3SE Commercial Temp with Pin8+Pin7 VCC Supported
ServerDOM-L 3SE Pin8 + Pin7 VCC Supported (Industrial, W/T Grade, -40 ~ 85?)
ServerDOM-L 3SE Pin8 + Pin7 VCC Supported (Standard Grade, 0? ~ +70?)
ServerDOM-L 3SE WideTemp with Pin8+Pin7 VCC Supported
ServerDOM-V 3IE3 (Industrial, Standard Grade, 0? ~ +70?)
ServerDOM-V 3IE3 (Industrial, W/T Grade, -40 ~ 85?)
ServerDOM-V 3ME3 (Industrial, Standard Grade, 0? ~ +70?)
ServerDOM-V 3ME3 (Industrial, W/T Grade, -40 ~ 85?)
ServerDOM-V 3SE Commercial Temp
ServerDOM-V 3SE Commercial Temp with Pin7 VCC Supported
ServerDOM-V 3SE Wide Temp
ServerDOM-V 3SE Wide Temp with Pin7 VCC Supported
Looking for pricing?

You can get sample price by clicking on the "details" button on each capacity.
If you need to get a budgetary price for your project, please contact us

Need technical info or advices?

Our mission is to help you finalizing your project successfully. By giving you some advices, we can help you reducing cost and time to market
Here is where you can reach us
| | |
| --- | --- |
| | We sell online & Distribute Worldwide |
Currency:




We Ship Worldwide


In business since 2003.
Sitemap
Product categories:

Computer Memory
Flash Memory
Storage & Duplication
Industrial Solid State Storage
Hardware & Accessories
Manufacturer List
Help & Support

My account
Technical suport
Track/Request a Return
Shipping & Delivery
Payments
FAQ
Company Information

About us
Why buy from us ?
Contact us
We are hiring!
Sales & Return Policy
Your privacy